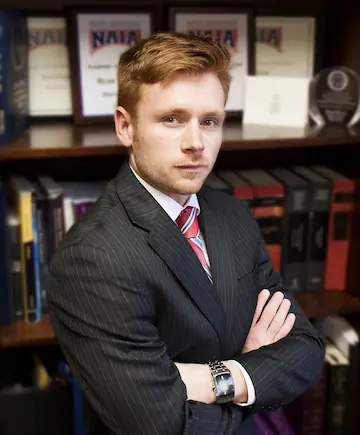 "Criminal Defense With A Prosecutor's Experience."
Ryan Krupp is a personal injury and criminal defense attorney in St. Louis and St. Charles County. Previously, he worked for both the Jackson County Prosecutor's Office and Johnson County District Attorney's Office where he appeared in court on behalf of the State of Missouri and Kansas in the criminal prosecution of among other things, Domestic Violence, Assault, Drug Cases, SVU Cases, Juvenile Offenders, and other felonies and misdemeanors. He tried numerous cases to a judge and jury.
Ryan is a native St. Louisan and is an alumnus of Marquette High School and Missouri Baptist University where he played men's soccer, racking up several honors including two Academic All-American Awards, as well as Scholar-Athlete Nominations and Academic All-Conference honors. Ryan is passionate about using his winning mindset to help people and ensure justice.
Contact Ryan Krupp at (314) 835-9999 or email Ryan.Krupp@KruppLawFirm.com
UMKC School of Law – Juris Doctor

Special Emphasis in Advocacy

Missouri Baptist University – BS Business Administration
Webster University; Leiden, NL – Studied International Law
Professional Affiliations

---
Adjunct Professor of Criminal Justice – Missouri Baptist University
The Order of the Barristers
Bar Association of Metropolitan Saint Louis (BAMSL)
Missouri Association of Trial Attorneys (MATA)
Missouri Association of Criminal Defense Lawyers (MACDL)
Phi Delta Phi International Legal Honor Society
Alumni Board – Missouri Baptist University
Inducted into Order of the Barristers
CALI Excellence for the Future Award in Constitutional Law
Honors Award
National Semi-Finalist; National Criminal Justice Trial Competition
Who's Who Among American Universities and Colleges
Two-Time NAIA Men's Soccer Academic All American
Shut Up Kid; How courts are treating the age factor in juvenile interrogations and how to practice the motion to suppress (2018)
Success in the court room

---
St. Louis County jury acquits man of all charges, Court Of Appeals affirms suppression of evidence.
On the evening of October 21st, after a full two-day trial, a jury in St. Louis County deliberated for approximately 45 minutes before acquitting a St. Louis County man of all criminal charges. Ryan Krupp argued the case to the jury prior to its unanimous decision. (Read more)
Police find Heroin in client's sock in St. Louis County.
Case dismissed after Ryan Krupp finds discrepancy in lab report.
Police find Heroin and Marijuana in the client's pocket in St. Charles County.
Case dismissed after Ryan Krupp files Motion to Suppress the evidence.
Missouri Man released from Sex Offender Registry after wrongfully labeled as a sex offender for 17 years.
St. Louis county client gets 1 year of probation for theft, while co-defendant not represented by Krupp Law Firm gets 5 years of prison for the same crime.
St. Louis County Man facing life in prison for stabbing gets short probation deal.