St. Louis Personal Injury Attorneys
---
Let us fight for the justice and compensation you deserve.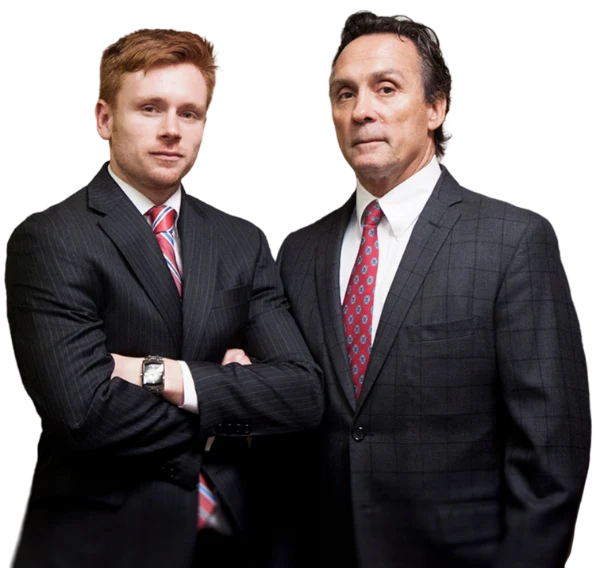 Injured on Business or Personal Property?

---
Common Causes of Slip and Fall Accidents
Irregular walking surfaces
Contaminants and spills
Poor lighting
Messy area with obstacles
No handrails
Wet floors
Tripping hazards (Cords running across the floor)
Snow and ice
Injuries on business or personal property can be tough to fight but not impossible. Owners will typically deny any wrongdoing and refuse responsibility for the accident. Insurance companies generally won't be of much help either since they are trying to pay out as little as possible. Insurance companies may try to deny your claim based on pre-existing conditions or even blame you for the accident.
That's why you need an experienced personal injury attorney who knows how to hold negligent parties accountable and help you recover the financial compensation you deserve. The Krupp Law Firm has been helping residents of St. Louis and St. Charles counties for more than 30 years.
Common Reasons People File Premises Liability Claims
Premises liability claims are an important part of personal injury law, as they allow people to seek justice when they've been injured due to the negligence or carelessness of a property owner. If you're considering filing a premises liability claim, it's important to understand what qualifies and why people file these types of cases.
We give some examples below these include but are not limited to:
Slip and Fall
Inadequate security
Dog bites
Toxic Exposure
Elevator and escalator defects
Stair collapse
Fires
Unsafe Swimming Pools
One of the most common reasons for filing a premises liability claim is slip and fall accidents. Property owners have an obligation to keep their premises safe from hazards that could cause harm to visitors, such as slippery floors or uneven surfaces. When someone slips and falls on another person's property due to neglect in maintenance, the victim may be able to recover damages for medical expenses and other losses related to their injuries.
Inadequate security at a business or private residence
Another common reason people file premises liability claims is inadequate security at a business or private residence. Businesses must take reasonable steps to protect customers from foreseeable risks while they're on-site, such as providing adequate lighting in parking lots or hiring security guards if necessary. If customers are assaulted or robbed because there wasn't enough security on-site, then they may be able file a successful premises liability case against the business owner who failed in their duty of care towards them.
Dog bites
are also grounds for filing a premise liability claim against pet owners who either knew or should have known that their animal was dangerous before it bit someone else on their property. Even if an animal has never shown aggression before, pet owners can still be held liable if someone else gets hurt by them because it was foreseeable that something like this might happen given past behavior patterns with other animals (or even humans).
Toxic exposure is another reason why people might choose to pursue legal action through a premise liability claim if they become ill after coming into contact with hazardous substances inside another person's home/business without being warned beforehand about its presence there first hand - especially if this illness results in long-term health problems down the line too!
Elevator and escalator defects
When an elevator or escalator defect results in injury, the liable party can be held responsible for any resulting liability claims. Depending on the circumstances of the incident, a number of parties may be at fault including the manufacturer, installer or maintainer of either device. If negligence is proven to have been involved then they could face compensation costs as well as potential fines and legal fees. Injuries caused by broken rails, misaligned steps and defective safety features are all frequent causes of liability claims due to these devices. It is important that regular maintenance and inspections are carried out to ensure that such incidents do not occur.
Stair collapse can result in serious injury and may lead to liability claims for those responsible for the stairs. Depending on the situation, a property owner or landlord may be held liable if their negligence led to an unsafe condition that caused a stair collapse. For example, if the stairs were not properly maintained or inspected for structural integrity, then any resulting injuries could be grounds for a liability claim. Additionally, depending on the circumstances of the accident and any applicable laws, manufacturers of defective parts used in constructing or repairing the staircase could also be held liable. In cases where someone is injured due to a stair collapse, they should seek legal advice as soon as possible in order to understand their rights and determine who might be responsible.
Fires can lead to serious injury liability claims due to the potential for people to suffer burns, smoke inhalation, and other physical harm. Property damage is also a major factor in fire-related liability cases, as businesses or homeowners may be held responsible for damages caused by fires occurring on their property. When determining fault in a fire-related injury claim, insurers will consider factors such as whether proper safety protocols were followed and if any negligence was involved. The severity of the injuries and amount of property damage incurred are also taken into account when assessing claims related to fires.
Unsafe swimming pools can be a major source of injury liability claims. In many cases, these claims are due to negligence on the part of the pool owner or operator. This could include failure to maintain the pool properly, failure to keep it clean and free from debris, or even lack of proper fencing or other safety measures around the pool area. Anytime someone is injured in an unsafe swimming pool, they may have grounds for a personal injury claim against either the owner/operator or any other parties responsible for maintaining safe conditions at the facility. It is important that all property owners take their responsibility seriously when it comes to keeping their swimming pools safe and secure for those who use them.
Common Injuries in Premises Liability Claims
Minor injuries including scrapes, bumps and bruises are the most common results of slip and fall accidents. Even if less frequently, severe injuries that have long lasting, devastating, and life-changing effects do occur. Some of these may include:
Back injuries
Traumatic brain injuries
Concussions requiring medical attention
Head injuries including lacerations, cuts, swelling and/or bleeding
Neck injuries
Spinal injuries
Facial injuries including dental injuries.
If you or someone you love experienced a life altering injury call the Krupp Law Firm immediately. Krupp Law Firm attorneys have more than thirty years experience serving the residents of St. Louis and St. Charles counties.
Learn About Your Legal Options
Take The Next Step and request your free consultation.