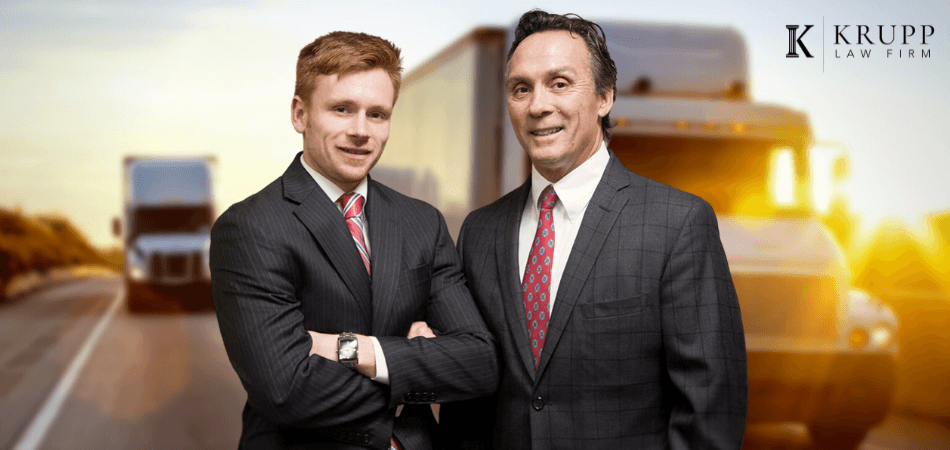 Semi-truck Accident Attorneys With 30+ Years of Experience

---
Why Hire Krupp Law Firm for Your Semi Truck Accident Case?
If you are the victim of a semi-truck accident you need trained lawyers whose expertise is in trucking law. Krupp Law Firm specializes in personal injury lawsuits involving negligent semi-truck drivers. They have over 30+ years of experience assisting victims of truck accidents in St. Louis and St. Charles counties.
Semi-truck accidents are different than other types of vehicle accidents. Semi-truck drivers are often represented by large companies and even bigger insurance corporations. They will fight against you so they don't pay you the deserved amount of financial compensation.
If you are injured in a semi-truck accident you will need to recover as much compensation as possible to cover medical expenses, lost wages now and in the future, mental anguish, disability, and/or loss of quality of life.
Over 130+ clients have written 5-star reviews explaining that Krupp Law Firm provided them with above and beyond service.
Click to enlarge
What Can a Semi-truck Accident Lawyer Do for You?
If you are in an accident involving a semi-truck it's best to contact an experienced lawyer that knows trucking law. being the victim of a semi-truck driver's negligence can cause lifelong injuries and damages. The trucking companies and their insurance companies are prepared to fight you. On this page, we will answer the most frequently asked questions regarding truck accidents. Our goal is to educate and prepare you for what comes next after a trucking accident. This page does not replace a consultation with our attorneys. If you or a loved one has been in a semi-truck accident do not hesitate and call Krupp Law Firm immediately.
Below we cover what a great semi-truck accident lawyer can do for you.
We handle these types of accident cases on a contingency basis where we only get paid when we get you a settlement and win your case, and you won't have to pay out any money upfront out of your pocket for the attorney's fees and litigation expenses involved. Some examples of more specific issues involving semi-truck accidents are the following:
It is very important to collect and gather as much evidence as possible. We will ask you to provide:
Any pictures and/or videos anyone may have taken at the scene of the accident.
Contact information of the driver, semi-truck company (drivers employer), insurance company.
Copy of the police report.
Your medical records of any injuries sustained from the accident.
Your insurance company, policy number and any relevant information.
Contact information of any witnesses including at least name phone number.
Having experience as a lawyer specializing in trucking law is critical to being able to negotiate. The trucking company and the insurance adjuster will want to pay out as little as possible. Krupp Law Firm knows how to negotiate with the trucking company and insurance to justify why you need the most compensation possible. This will usually take multiple calls where Krupp Law Firm will present your case. This process shows the strengths of your case and why a jury will reward much higher compensation than the initial settlement offer.
The only time you need to contact your insurance agent is when you report the accident. The Krupp Law Firm will handle the rest for you. If the driver or their trucking companies insurance company tries to contact do not talk to them. Many times insurance companies are looking for some kind of dirt on you to strengthen their case and pay you less. They are going to try to get you to say something that makes you seem at fault. If their insurance or company tries to contact it's safest to let your attorney deal with them.
Craft and Send Demand Letters
Krupp Law Firm will craft and send demand letters to the insurance adjuster. These letters are strongly supported by their investigation into the accident and medical bills. They are experts at building strong cases that justify a much higher payout from businesses and insurance companies.
Pleadings are formal written statements that address one or more issues that arise throughout a case.
Discovery is the process that allows each side to obtain relevant facts from the opposing side.
If your lawyer and the insurance adjuster can not reach an agreement on a settlement you will need a strong trial attorney to bring your case in front of a jury. If the court date is extended do not assume something is wrong. Many times court dates are made to fit the judge's schedule.
What To Know About Semi-truck Accident Cases.
You carry the burden of proof.

Krupp Law Firm knows how to build strong cases, negotiate and demand more from companies and insurance adjusters.

You are up against commercial entities.
Your truck claim could be covered by worker's compensation.
What Should I Do at the Scene of a Truck Accident?
Stop and report the accident. Call 911 immediately. Be sure to stay out of traffic. Anyone involved in the accident must remain at the scene. Once the police arrive they should fill out an accident report. Keep a copy for your records and give a copy to your attorney. You will most likely need to use the accident if you ever go to trial.
Seek medical attention immediately. You may not realize all your injuries at the scene due to adrenaline. If you do not receive medical attention at the scene go to a doctor right away. If you do receive medical treatment at the scene you still need to go to a doctor to check for any injuries.
Take pictures and gather witness information. Take pictures of your vehicle and the semi-truck. Take pictures of the trucks identifying information including license plates. Get the driver's name, insurance information, company name, and company phone number. If you can get any witness's information include at least names and phone numbers. Get statements from the witnesses at the scene describing what they saw.
Contact the Krupp Law Firm. Call the personal injury attorneys at Krupp Law Firm. They will guide in the steps you need to take next.
What Should I Do if Someone From the Trucking Company Calls Me?
Do not talk to the trucking company or their insurance company. If either call you contact your lawyers at Krupp Law Firm. The trucking company or insurance company might be trying to get you to say something incriminating to make the accident seem like it's your fault. They will try to use your words against you to justify paying you less than you deserve. Avoid the trucking company and the insurance adjusters and contact your lawyer immediately.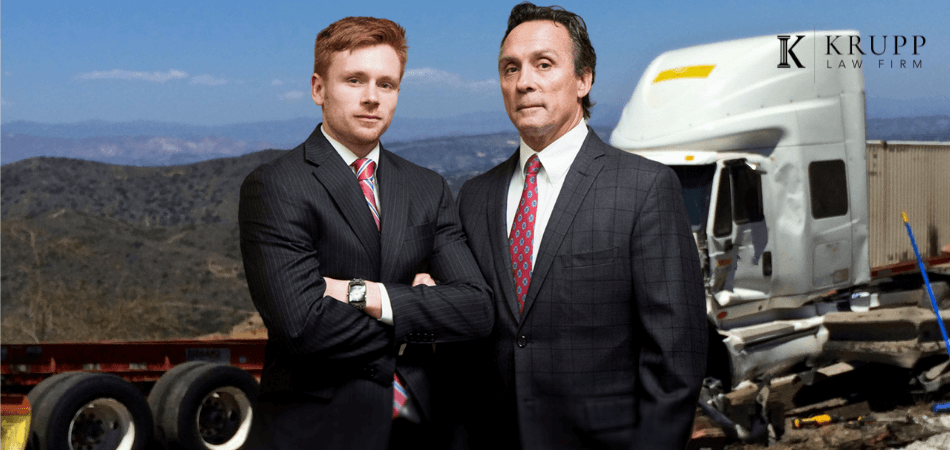 What Is a Semi-truck's Black Box?
Most commercial semi-trucks are equipped with a "black box" or event data recorder device, though they are not required by law.
Who Is Liable and Responsible in a Truck Crash?
Semi-truck accidents are different than most passenger car accidents. The semi-truck driver is usually hired by a company to drive for them. As the semi-truck drivers' employer, the trucking company (also known as a carrier) may bear legal responsibility, as well as for the safety of the trucks it owns.
In addition to the driver and the carrier, others may also be held responsible for the accident. The semi-truck manufacturer, the owner of the cargo, and/or state and local governments for road maintenance. Krupp law Firm has the experience to find all parties responsible and make them pay for your pain and suffering, lost wages, medical bills, and more.
What Are Hours of Service Regulations for Truckers?
There are laws and rules limiting truckers to the amount of time they can drive. Typically it is 60/70 hours for a consecutive 7 days. They can not drive more than 70 hours for 8 consecutive days. Unfortunately, many drivers break these rules and laws due to tight scheduling. The drivers need to make their delivery on unrealistic time schedules set by the carrier or cargo owner. Many times this leads to drivers not getting enough rest or sleep leading to accidents with semi-trucks.
Truckers Under the Influence.
Due to tight schedules and long distancing driving, some truckers will turn to substances to keep them awake. It is also commonly believed these substances will also make them more which is not always the case. Being under the influence may lead to bad judgment or slow reaction times. Substances can also cause drowsiness while they are driving.
Drivers might also drink during their breaks or before their shifts begin. Driving under the influence of alcohol is extremely dangerous and also a crime.
What Steps To Take To Maximize Compensation From a Truck Accident?
Get an Experienced Lawyer
Follow Up with Medical Care
Keep Track of Expenses and Losses
Stop Posting to Social Media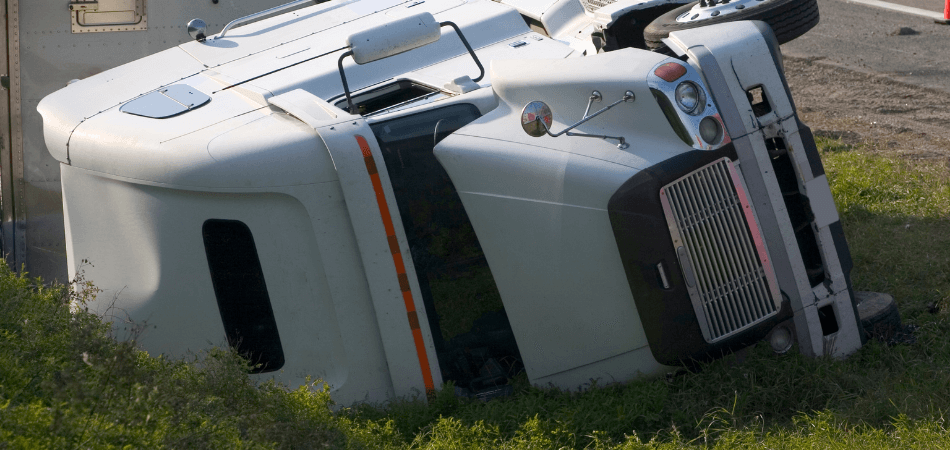 How Long Do You Have To Assert a Claim After a Semi Truck Accident?
In Missouri, the Statute Of Limitations is 5 years to pursue a claim for compensation. We highly recommend you do not wait to contact Krupp Law Firm immediately. The longer you wait the harder it will be to prove your case. Krupp Law Firm will start the investigation, and negotiations, so you can get the maximum compensation you deserve as fast as possible.
Filing your claim immediately prevents evidence from being destroyed, witnesses being able to recall the accident correctly, increases the likelihood of a quicker resolution or settlement, and ensures compliance with policy provisions that require "prompt" or "immediate" notice. All of these factors are extremely important to your case.
How Do I Begin the Claims Process Against a Large Trucking Company?
First report your accident to your insurance company. Immediately after call the Krupp Law Firm. Time is of the essence when it comes to accidents like these.
If a Person Is Killed in a Semi-truck Accident Does Their Family Have a Claim?
Yes, when a family member is killed in a semi-truck accident, there are potential resources for obtaining compensation for the
wrongful death
of that person.
Call Krupp Law Firm - How Our Semi-truck Accident Lawyers Can Help You.
Do not wait or hesitate to call Krupp Law Firm immediately. We have the experience and expertise to help you receive the maximum amount of compensation you deserve. Krupp Law Firm knows how to identify the responsible parties and negotiate on your behalf.
Semi-truck Accidents Conclusion
As your lawyers, we usually try to get you a settlement of your claim without having to file a lawsuit in court to get you compensated. After all, who really wants to have to be involved in a lawsuit? We realize you probably don't want to be in a lawsuit, we will do our best to get you fairly compensated for the injuries and damages, sometimes the other driver's insurance company wants to sell you short on your recovery.
This is personal to you, and we will help you!
Use the email form below or call Ryan Krupp and James Krupp at (314) 835-9999 right away.
Learn About Your Legal Options
Take The Next Step and request your free consultation.