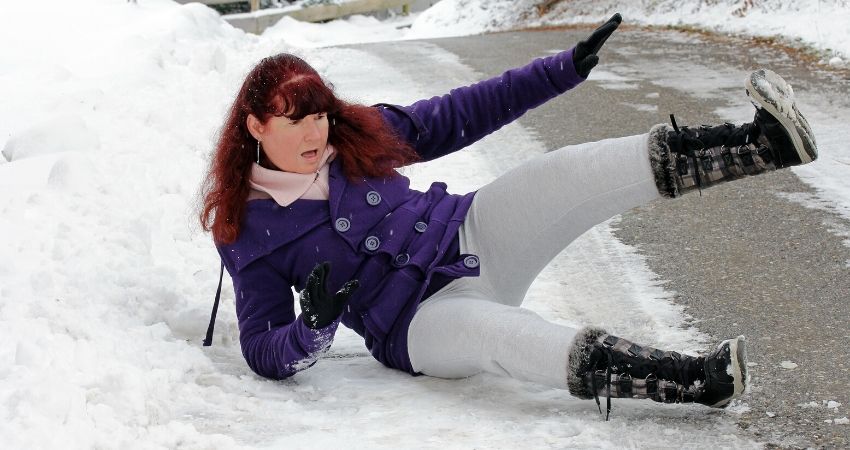 Injured on Business or Personal Property?

---
When the negligence of a property owner results in injury it can be frustrating, stressful, and painful. When you enter a business or personal property you should expect to be safe from harm. You do not expect to find yourself in an emergency room. If you or someone you love has been injured you need to immediately contact a personal injury lawyer at the Krupp Law Firm.
Property owners (or non-owner residents) have a responsibility to maintain a relatively safe property so people who enter the property don't suffer injury. This responsibility is known as "premises liability," which holds property owners and/or residents liable.
According to NFSI National Floor Safety Institute, falls account for over 8 million hospital emergency room visits, representing the leading cause of visits (21.3%). Slips and falls account for over 1 million visits, or 12% of total falls.
Common causes of slip and fall accidents on business/private property may include
Irregular walking surfaces
Contaminants and spills
Poor lighting
Messy area with obstacles
No handrails
Wet floors
Tripping hazards (Cords running across the floor)
Snow and ice
Injuries on business or personal property can be tough to fight but not impossible. Owners will typically deny any wrongdoing and refuse responsibility for the accident. Insurance companies generally won't be of much help either since they are trying to pay out as little as possible. Insurance companies may try to deny your claim based on pre-existing conditions or even blame you for the accident.
That's why you need an experienced personal injury attorney who knows how to hold negligent parties accountable and help you recover the financial compensation you deserve. The Krupp Law Firm has been helping residents of St. Louis and St. Charles counties for more than 30 years.
Common reasons people file premises liability claims:
Slip and fall accidents
Elevator and escalator defects
Porch collapse
Stair collapse
Dog bites
Fires
Unsafe Swimming Pools
Common injuries in premises liability claims:
Minor injuries including scrapes, bumps and bruises are the most common results of slip and fall accidents. Even if less frequently, severe injuries that have long lasting, devastating, and life-changing effects do occur. Some of these may include:
Back injuries
Traumatic brain injuries
Concussions requiring medical attention
Head injuries including lacerations, cuts, swelling and/or bleeding
Neck injuries
Spinal injuries
Facial injuries including dental injuries.
If you or someone you love experienced a life altering injury call the Krupp Law Firm immediately. Krupp Law Firm attorneys have more than thirty years experience serving the residents of St. Louis and St. Charles counties.